The Focus
Established in 2008, we aspired to one basic idea. Refocus risk into the most basic terms possible and incorporate what matters most: analysis, coverage and service. We continue to live and operate by these principals every day. In this dynamic economy, both business and personal aspirations deserve the best in risk guidance. Toto Group, LLC insurance made simple. Insurance Refocused.
Founder, CEO
Ryan Toto, CPIA is a graduate of Johnson & Wales University's Hospitality College – Providence, RI. Throughout his career, Ryan has held positions with Marriott, Enterprise Rent-A-Car and Allstate. In June of 2007, Ryan began an apprenticeship with EMAR group in Livingston, NJ. While at EMAR he was educated by some of the best and most talented leaders within the industry. One year later in August of 2008, Toto Group, LLC was established. Since then, Ryan has continued to integrate insurance with hospitality resulting in a truly unique customer focused experience.
Why do business with Toto Group, LLC.?
Unlike a captive, or direct insurance company who only offers their own proprietary products, our agency is 100% independent of any one company. Many insurance consumers don't fully understand just how important that really is.
When it comes to something as important as insurance, it's imperative that you work with an agency who has an in-depth knowledge of multiple insurance products, companies, and guidelines — not just one.
At the end of the day, what separates one agent from another, is their ability to proactively service their policy holders, and their knowledge of the insurance industry, products, and different situations that may present themselves to their clients.
Independent Agent Vs. The Rest
Here is a quick comparison of the differences between an independent agency like us, and the various other types of companies that are out there: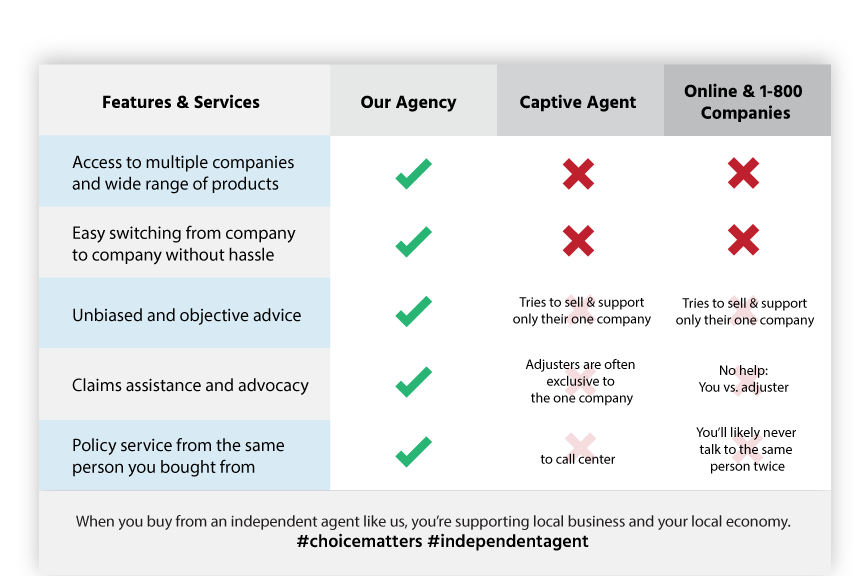 If you'd like to get started with a complimentary quote and/or policy review, we'd be happy to help you any way we can. Simply complete the fields below to get started online in a matter of seconds.
We appreciate the opportunity to help you, and look forward to servicing your insurance needs! Feel free to call us directly if you have more detailed questions.